Monthly Archives:
August 2022
By Carl Weinberg, republished with permission. Read the original article here.
[My own comments: It is easy to link creationism to religion, but to me this seems counter-effective, as well as ignoring the many believers who oppose creationism all the more fervently because it is a travesty of their own faith. Debunking the science in "creation science" is an endless activity, but I don't think anyone ever became a creationist because of things like polonium halos, or alleged gaps in the fossil record. Digging deeper, we can identify creationism as a conspiracy theory. Indeed it could hardly be otherwise, given its claim that the entire scientific establishment and most of the educational system is engaged in a diabolical plot. This is a particularly dangerous conspiracy theory, not only because it is fiercely anti-intellectual, but because it keys into climate science denial and, these days, into even crazier and more toxic beliefs.
Why do people buy into conspiracy theories, and how to thwart those who use such theories to enhance their power?
This raises further urgent questions; why do people buy into conspiracy theories, and how to thwart those who use such theories to enhance their power. Questions for the psychologist, the social scientist, and the historian, as this article exemplifies.]
Almost two years into the COVID-19 pandemic, we are inundated with COVID conspiracy theories: Satan-worshipping globalist elites, including George Soros and Bill Gates, deliberately developed and spread the COVID virus around the globe. The COVID vaccine is the Mark of the Beast from the Book of Revelation. Hollywood celebrities caught COVID by drinking infected adrenochrome harvested from live children in a satanic ritual. Mask and vaccine mandates are a communist plot by the Jewish Illuminati. Polling data suggest that millions of Americans—up to 20 percent of the country—believe at least some of these claims.
Almost two years into the COVID-19 pandemic, we are inundated with COVID conspiracy theories…
Read the rest of this entry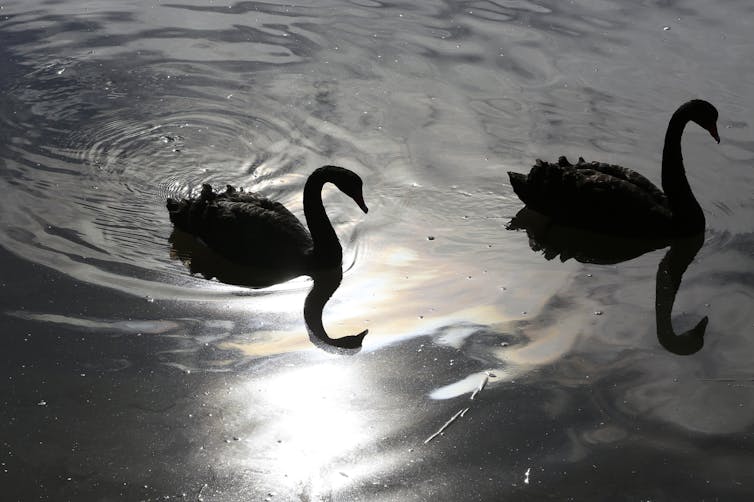 Discussions about the nature of science and scientific theories are often confused by the outdated view that such theories are rendered false when anomalies arise. The notion of a scientific theory as a static object should be replaced with the more current view that it is part of a living research programme, which can broaden its scope into new areas.
For example, take the hypothesis that all swans are white, which seemed pretty good to Europeans until Dutch explorers found black swans in Australia in 1636. So what happens to our hypothesis? There are a number of options.
1) Redefine swan-ness to include whiteness. Then black swans aren't really swans, and the hypothesis remains true by definition.
2) It's been disproved. Discard it.
3) Compare different species of swan the world over, and see how well black swans fit in.
(1) is the least useful. Definitions can only tell us about how we are using words. They tell us nothing about the world that those words attempt to describe. (2) is based on the common-sense idea that hypotheses should be discarded when falsified by observation. This was the idea put forward by philosopher Karl Popper in the 1930s, to distinguish between science and pseudoscience.
Read the rest of this entry
This piece,written in October 2020, seems more relevant now than ever. The Reverend John Macarthur returned to this theme in November 2021, repeating his description of the world as disposable and comparing it to a styrofoam cup
Paul Braterman, University of Glasgow
Every so often you come across a piece of writing so extraordinary that you cannot help but share it. One such piece is a sermon on global warming by American pastor John MacArthur. Full of beautifully constructed rhetorical flourishes, it is forcefully delivered by an experienced and impassioned preacher to a large and appreciative audience.
For me, as a man of science, it is the most complete compilation of unsound arguments, factual errors and misleading analogies as I have seen in discussions of this subject. But it's important because climate change is a big election issue this November in the US, where there is a growing movement of evangelical Christians who deny its existence, while Joe Biden promises a "clean air revolution".
---
Read more: Faith and politics mix to drive evangelical Christians' climate change denial
---
The minister of the COVID-denying, law-defying Grace Community Church in Sun Valley, California – which has encouraged worshippers to congregate as normal despite state COVID-19 restrictions – MacArthur is an impressive figure whose Study Bible has sold almost 2 million copies.
He regards the infallibility of the Bible, from Genesis to Revelation, as essential to his faith, and his sermon about global warming can only be understood in that context. MacArthur's rejection of the science is shared by other major US ministries and organisations such as Answers in Genesis, Creation Ministries International and the Discovery Institute. https://www.youtube.com/embed/ZTlYl8E_B14?wmode=transparent&start=0
Read the rest of this entry