Postscript on that pig
Just three comments:
1) A delightful discussion of the importance of initiation rituals in criminal conspiracies, over at Wee Ginger Dug
2) What about Ashcroft's much more important allegation, that Cameron lied about his knowledge of Ashcroft's non-domiciled status? (for non-UK friends, that's a special rule to help rich people pretend they don't really live in the UK, even when they're in the House of Lords), and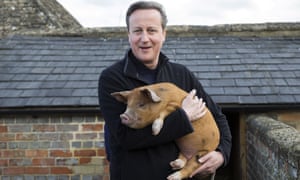 3) Did the pig give meaningful consent? And has the British electorate given meaningful consent to what Cameron and Company
Limited are doing to the UK, when 62% of those who voted, voted against?